Language Specialist
ロウ スチュアート チャールズ
Rowe Stuart Charles
After studying Japanese and Linguistics at the University of New England, Stuart moved to Japan and started working in the EFL industry. He has worked as an English instructor, Content Developer, and Head of Curriculum. He has written over 20 textbooks and published a series of popular books on English studies. Stuart joined Raksul in February 2019. He is heading the curriculum design and execution for the executive language training program, company-wide group classes and various language and cultural exchange initiatives.
Building a career as a language professional in Japan
I came to Japan in 2005 and started off my career at Berlitz. In 2009, I joined Dean Morgan Academy, which would later become Rosetta Stone Learning Center.
Working at DMA was a great experience for me because it allowed me to grow so much professionally. I was responsible for creating the in-house curriculum – a multi-year project that would push my skills to the limit. One moment that stands out is when I was invited to present at my first ESL/EFL trade show on the topic of curriculum development – a terrifying but rewarding experience.
After a corporate merger, I found myself working at Rosetta Stone Learning Center. What I really liked about this company is how they were able to combine technology and education while simultaneously developing original content. As Lead Curriculum Developer, then later Head of Curriculum, I was responsible for working with a team to create everything from English textbooks to websites, and everything in between. My greatest memory at RSLC was when my team and I completed and successfully rolled out our set of CEFR A1 – B2 textbooks based on the communicative method and aligned with the famous Rosetta Stone E-learning.
Connection with Raksul
After completing the aforementioned project, I was looking for my next big challenge. I knew I wanted to do something with education and technology, however, I wanted to do something a little different from creating and developing curriculum. It was serendipitous timing because just as I was putting the finishing touches on the project, I was recommended to apply for a job at Raksul that a friend had found. The parent company (LMG) of my previous company (RSLC) has a venture incubation department. It was in that very department that Raksul started. I remember being told on a few occasions about the successes of the different businesses in the venture incubation unit, with Raksul always being mentioned. Some of my friends in the industry also told me about Raksul and the great things they are doing – most notably disrupting industries in Japan, being the "Uber of logistics", and creating a company that respects employees and fosters a great environment for rewarding innovation.
Culture, technology and education
I have great respect for the company's corporate culture and working environment. I remember when I came to the office for my first interview. I was so impressed by everything, the office, the technology, the dress code – it seemed like a really cool place to work. At the same time, I am really interested in how Raksul is applying technology to traditionally analog businesses and digitalizing them. I like to do a similar thing for education. I strongly believe in blended learning (applying IT to education) and what better place to apply that than in an IT company which prides itself on the digitalization of legacy industries.
Rewarding experience for an educator
The most rewarding part of my job is seeing the progress students make. I love seeing the joy on students' faces when they master something, which can be anything from getting a perfect mark on a test to simply saying a hard-to-pronounce word correctly. Seeing growth is incredibly rewarding.
Vision for the future
In regards to business, I hope to one day run my own company. I've dabbled in starting a few businesses, especially when I was younger, but they were just fun side hustles. What I'd like to do is set up my own education training and content development company, which provides teacher training, corporate cultural training, and custom educational content creation. As for personal goals, I want to make sure my daughter gets a great education and grows up with a strong Japanese and Australian identity, with the confidence and knowledge to be able to make her own dreams come true.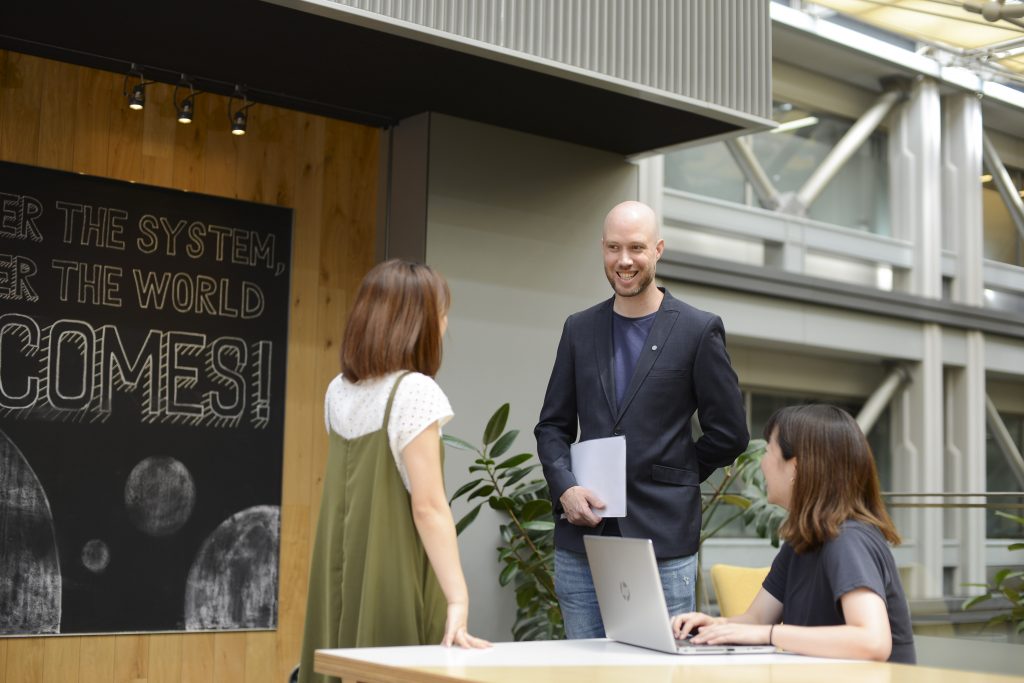 Related Stories
関連するストーリー